SKIN DECODED
How does adaptive skincare work?
Instead of formulating each product with one or two key ingredients, we combine multiple powerful actives into "super-hero" Skin Complexes. Thanks to these Proprietary Complexes, each PRIORI product and collection is multi-functional, therefore, responds better to your skin's individual needs.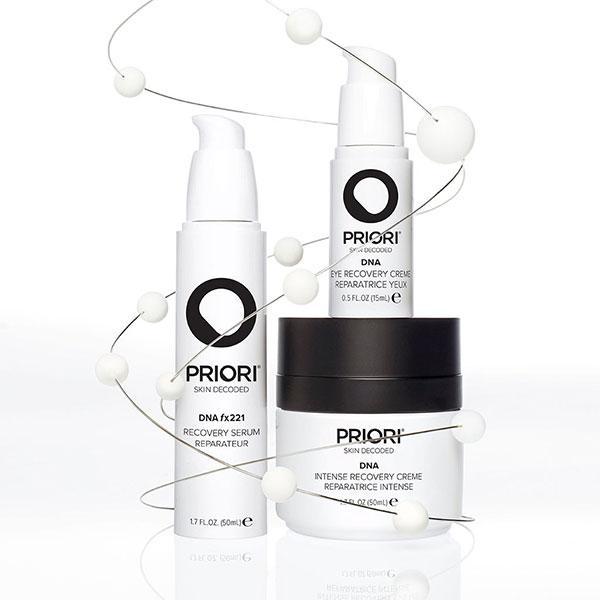 THE END OF ANTI-AGING
Chronological aging is inevitable, however, when addressed efficiently, at any age, its symptoms can be treated. Formulated with powerful antioxidants, correctors and protectors, our products offer skin solutions adapted to every step of your individual skin aging process, whether you are 20, 40 or 65!
LCA Complex

Lactic Acid + Vitamins A, C, E & Pro-Vit A: offers skin superior, damage-free exfoliation, hydration and normalisation for all skin types and conditions. Preps skin for best results and increases natural hyaluronic response for boosted hydration.

Q+SOD Complex

Highly concentrated Super Oxide Dismutase plus CoQ10: ultimate antioxidant protection for modern skin needs. Works by mimicking how natural antioxidants function within the skin to offer supreme correction and protection to cells.

Triple Turmeric Complex

A compound of three turmeric actives, green tea, grapeseed & licorice: dramatic antioxidant, anti-inflammatory and anti-redness benefits, as well as skin whitening ability and tyrosinase inhibition to treat pigmentation.

DNA Enzyme Complex

Natural DNA repair enzymes from blue/green algae, microbe & mustard seed extract: mimics skin's natural DNA enzymes to cut out and repair damage to skin DNA, allow cells to function correctly and neutralise any further damage.

Botanical Complex

Six raw ingredients that provide over 30 antioxidants: antioxidants and polyphenols provide broad spectrum cover and the ultimate daytime protection and repair—plus anti-inflammatory, brightening and depigmentation benefits.

Advanced Moisture Complex

Glycerin, Sodium PCA, Trehalose & Sodium Hyaluronate: intensely hydrating both short and long-term, this complex addresses the causes of dry skin, with moisture-locking properties to keep skin feeling fresh.

Anti-Irritant Complex

Allantoin Glycyrrhetinic Acid, Bisabolol & Sucrose Cocoate: contains targeted anti-inflammatory, moisturising, soothing, lipid replacement and conditioning properties to calm, cleanse and replenish irritated skin.

IR Complex

Naturally-occurring Carnosine, Soliberine & Sepia Melanin: assists with broad-spectrum protection by reducing IR-A induced cellular damage and providing strong antioxidant absorption of UV and IR radiation.
LCA
DESCRIPTION: Think of LCA formulas as our core collection and the perfect entrypoint for those looking to experience the benefits of cosmeceutical adaptive skincare. Each formula incorporates our nourishing LCA Complex and works synergistically with our other skin complexes, each chosen for their specific benefits.
SUITABLE FOR: All skin types, including those with sensitive skin. Our LCA formulas are gentle and work to soothe, repair and protect your skin on a cellular level.
Q+SOD & DNA
DESCRIPTION: Our Q+SOD and DNA formulas incorporate improved superceutical technology and more concentrated actives for even deeper resurfacing results. Our Q+SOD collection is formulated with CoQ10, retinol and antioxidants for superior correction while our DNA complexes help to further protect and repair damage to the skin.
SUITABLE FOR: Skin types concerned with pigmentation and ageing. Not recommended for sensitive skin. Please also note that some of our Q+SOD formulas include retinol which some women prefer to avoid during pregnancy and/or breastfeeding.
TTC
DESCRIPTION: Our TTC collection is the ultimate in natureceuticals, providing all the benefits of adaptive skincare technology, without the nasties—harnessing the powers of natural antioxidants for multifunctional adaptive results. All formulas are clean, natural and as good for your skin as they are for the environment.
SUITABLE FOR: All skin types, including those with sensitive skin.
R-SPINASOME
DESCRIPTION: Our luxury anti-ageing skincare line incorporates powerful green technology for advanced wrinkle correction, hydration and anti-inflammatory benefits—for immediate skin improvements.
SUITABLE FOR: All skin types, particularly those concerned with the visible or more advanced signs of ageing.